Crawl Space Insulation Experts in Greater Portland
Prevent mold, moisture & comfort problems with the right insulation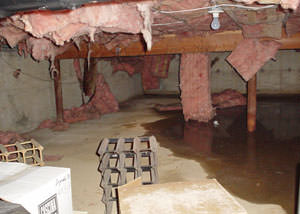 Fiberglass insulation in a crawl space tends to soak up moisture and humidity, growing mold and eventually causing it to "drip" off the ceiling.
Crawl space insulation is important. A number of comfort and energy problems are caused by inadequate or incorrect crawl space insulation.
Any crawl space can be wet and damp, so the insulation must hold up in those conditions. We recommend installing a vapor barrier along with proper insulation to prevent mold and moisture problems and keep your home comfortable year-round.
When you count on TC Hafford Basement Systems for your crawl space insulation needs, we will send out an expert technician to inspect your crawl space and recommend the right services. We have the tools and experience to seal air leaks and install high-performance insulation to help improve your home's comfort and energy efficiency.
A healthier crawl space is just a phone call away!
Contact us today for your crawl space insulation quote! We serve Portland, Rochester, Bangor and many surrounding areas.
Our crawl space insulation solution
The crawl space insulation materials that we install are compatible with our crawl space encapsulation and drainage systems to ensure a dry, healthy, comfortable crawl space!
---
SilverGlo™ Crawl Space Wall Insulation panels look different because they ARE different. Tiny graphite particles permeate its foam insulation to give it that silver/gray shine.
These tiny particles reflect heat and lower the material's conductivity for superior R-value per inch.
In addition to resisting heat conduction, SilverGlo™ boasts a radiant barrier, which reflects heat back into your crawl space for ultimate energy savings. SilverGlo™ crawl space insulation can also be installed on the perimeter of your floor framing system (rim joist) for maximum energy savings.
SilverGlo™ Specifications
Thick Material -- 2"-thick insulation with a radiant barrier to both insulate and reflect heat back into the crawl space.
Extra Insulation-- SilverGlo™ has an R-11 value insulation to keep more heat in the crawl space and home.
---
Contact Us for a Free Estimate!
TC Hafford Basement Systems services Portsmouth, Lewiston, Waterville, Dover, Auburn, Biddeford, South Portland and many nearby areas in Maine and New Hampshire.
Looking for a price? Get a no cost, no obligation free estimate.