Mud Jacking vs. PolyLevel® in Portland & Surrounding Areas
A lightweight, more precise method to lifting sunken concrete slabs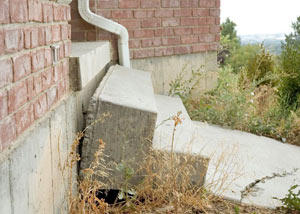 PolyLevel® is less invasive, less disruptive, and more eco-friendly than mud jacking in Maine.
Sinking patios, walkways, driveways, and concrete steps are unsightly and can create a tripping hazard on your property. One method to repairing sinking, settling concrete slabs is traditional mud jacking.
What is mud jacking? Mud jacking is also known as slab jacking and grout pumping. It's a repair technique for lifting concrete slabs with a mortar-based mix. Mud jacking involves pumping a mixture of water, soil, sand and Portland cement under a settling concrete slab. The material, or "slurry", cures to become a solid, stable fill to lift sunken concrete.
The problems with mud jacking: Mud jacking may be widely used, but is it the best option for lifting those sunken concrete slabs? For heavy concrete structures, mud jacking is successful when used in conjunction with slab piers, not as a standalone solution.
For sunken concrete slabs, traditional mud jacking is messy, involves on-site mixing, drilling large holes, and takes hours or days to completely cure, leaving concrete unusable.
The PolyLevel® solution
TC Hafford Basement Systems offers a fast, effective, and less invasive approach to concrete leveling with PolyLevel®. The PolyLevel® system involves injecting an expanding polymer foam under the concrete for a durable, long-lasting solution. If you're interested in learning about what PolyLevel® can do for you, call us for a free estimate for our alternative to mud jacking in Portland, Bangor, Rochester and nearby.
PolyLevel® concrete lifting & leveling advantages
The benefits of PolyLevel® injectable polymer when compared to traditional mud jacking:
Greater precision & accuracy: Metered, spaced-out injections ensure that the lifting power of PolyLevel® is carefully controlled. We can even adjust the chemical composition of our injection for further precision.
Environmentally friendly & strengthens underlying soil: PolyLevel® does not release harmful chemicals into the soil. On the contrary, PolyLevel® strengthens underlying soil so concrete won't sink down the road, further protecting your investment.
Stronger & less invasive solution: PolyLevel® is a lightweight foam, but it can support heavy loads and provide greater power than alternative concrete lifting methods. You'll experience greater lifting power than with traditional mud jacking, with less invasive equipment and far less disruption to your daily life.
Cures almost immediately: PolyLevel® takes just minutes to cure, while mud jacking takes hours or days. With PolyLevel® by TC Hafford Basement Systems, you may resume driving, walking, and other use of your concrete almost immediately.
More natural appearance from smaller injection sites: Mud jacking leaves substantial holes in concrete, creating an unfinished look that is highly visible on concrete slabs. PolyLevel® needs less than an inch per injection. Maintain the beauty of your pool deck, garage floor or driveway with smaller, less invasive injections.
Free estimates: TC Hafford Basement Systems provides free, no-obligation estimates for PolyLevel® in Bangor, Portland, Rochester, and the surrounding areas.
Learn more about PolyLevel® today!
TC Hafford Basement Systems is Greater Portland's trusted concrete repair contractor. Schedule an estimate in Portland, Bangor, Rochester, Lewiston, Portsmouth, Dover, Waterville, South Portland, Auburn, Biddeford or nearby to learn more about why PolyLevel® is our top choice for repairing sunken driveways, sidewalks, and more!
Looking for a price? Get a no cost, no obligation free estimate.