Comparing Gutter Guards in Portland, Biddeford, South Portland, & Nearby
What gutter guard system is best for your home?
Gutter helmets, screens, filters, or guards - which gutter protection is best for your home?
As you search to find the perfect gutter guard system, it's important to know what to look for. Having the right gutters and gutter guards for your home is vital to protecting your foundation, basement, and landscaping from costly water damage.
Keep debris out and gutters from overflowing by choosing the best functioning gutter guard. TC Hafford Basement Systems has researched popular gutter cover options to pinpoint the major differences.
Compare gutter guard systems: screens, brushes, & more
In order to keep debris out and gutters from overflowing, you'll need a rain gutter guard you can trust. An effective gutter guard can help prevent gutter damage, such as sagging, denting, and pulling away, and extend the life of your gutters. Check out our handy gutter guard comparison below to learn the advantages and disadvantages of each type of gutter cover.
The pros & cons of common gutter guard systems:
Gutter Screen: A gutter screen consists of a plastic, metal, or mesh topper placed over your gutters. Gutter screens are relatively easy to install and vary in perforation size. Issues with gutter screens are a hole size that is too large to effectively filter out debris, blow-off risk, and the continued need for regular gutter cleaning to keep gutters clear and allow for water flow.
Gutter Brushes & Filters: A pipe cleaner-type device with a thin metal wire and polypropylene bristle, a gutter brush is inserted into your gutter system. This is an easy DIY option that is inexpensive. Issues with gutter filters include a build-up of debris when leaves and twigs are trapped in the bristles, along with the need for regular cleaning to maintain performance.
Gutter Hoods, Helmets & Covers: Gutter hoods or covers are attached to the top of your gutter and installed under your roofing shingles. Potential issues with gutter hoods include voided roof warranties, the risk of leaks at seams, and damage during storms.
All-In-One Gutter System: A custom-made, seamless system that installs under the drip edge. Issues with all-in-one systems are minimal, but they aren't suited for DIY installation and may require custom, on-site installation.
Comparing gutter guard systems
The gutters on your home protect your foundation, fascia boards, landscaping, and basement from rot, mold, and water damage. Having a system that works properly can make the difference between an unhealthy home that requires costly repairs and a healthy home.
We've carefully evaluated different types of gutter guard systems and how they hold up over time. See our gutter guard comparisons below: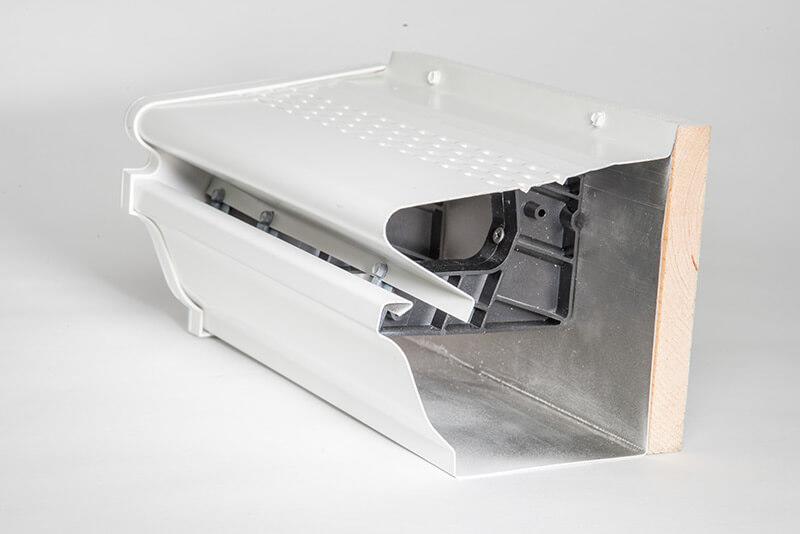 Enclosed, 6" gutters with perforations for maximum water flow.
What gutter guard system is best for your home?
TC Hafford Basement Systems installs the Gutter Shutter gutter system. This all-in-one gutter system includes gutter guards with a lifetime no-clog guarantee, preventing you from ever having to clean out your gutters again. The fully enclosed seamless gutter design and perforated covers provide peace of mind that your home is protected against water damage for years to come.
The Gutter Shutter system includes:
Extra large 6" gutter size for maximum water flow
Perforated hood for a clog-free guarantee
Heavy .032 aluminum, guaranteed to never sag
High back troughs to protect fascia boards from water damage & rot
All-in-one enclosed seamless design, eliminating vulnerabilities associated with seamed systems
Free gutter guard estimates in Greater Portland
A damaged or overflowing gutter with no gutter cover can be just as bad as no gutters at all. At TC Hafford Basement Systems, we aim to provide the best gutter guard installation experience possible. Schedule a free estimate today to get started with our seamless Gutter Shutter system. We proudly serve Portland, Biddeford, South Portland, and nearby in Maine.
Looking for a price? Get a no cost, no obligation free estimate.